Kairos #10 God's Blessing
Kairos #10 (22-26 May) – Thank God for your support – We were blessed indeed by all the loving support that we received from so many people, locally and overseas. Many folk committed to pray for the week; and many also helped with agape in other ways including food and letters.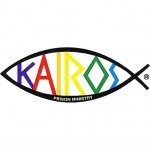 This week was especially significant in a number of ways. We had 18 men attend and there was not one who left, all staying the whole five days. The men were particularly open and engaged in their participation. We found this to be happening right from the beginning on the second day, really the first serious day following the introductions.
At the closing ceremony each man had something to say. This is itself is unusual. The comments were revealing and encouraging. Many, the majority, in the group were from overseas. A common comment focussed on a unity which had not been previously experienced. One man from SE Asia who has been inside for a considerable period sated that his time inside had been difficult, but this was definitely "his best week"!  Many of the men spoke of a "re-kindling" of their faith.
And the weather was fine.
God has been good to us in so many ways. The support of the Chaplain and the prison staff cannot be taken for granted.
Please continue to pray for this ongoing ministry. Journey Days which will be held each month; the first being Tuesday 20 June.
Every blessing.
Chris Bullock – (and a member of Kairos #10 team)