M46 & W46 Cursillo 3 Days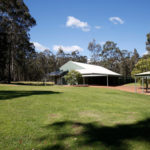 M46 Cursillo was a very spiritual time. It was encouraging that we were able to share the weekend with the ladies of W46. Although there were only two candidates at the beginning, one had to drop out halfway through the weekend. So we ended up with just one! However we were just as committed to the weekend as if we had several more. Our theme statement was from Romans 8:28 "And we know that God causes all things to work together for good to those who love God, to those who are called according to his purpose." Our Theme Song was "Guide me O thou Great Jehovah." This is a natural song for men and we seemed to sing it better as the weekend went on. We sang all the songs with gusto and I am sure that our candidate will have good memories of the weekend. He will especially be inspired by the testimonies of the team members. I am sure that the team members grew spiritually over the weekend.
Bishop Peter celebrated the closing Eucharist and he was very encouraging with his sermon for the movement.   Tony Farmer – M46 Lay Director
A TIME APART AT W46.
When you have been away and then come home, how do you describe your experience?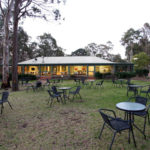 You talk about what you have seen, what you have experienced, what you have learnt and the people you have met.
Well, I have "been away" at W 46 at Quorrobolong Retreat. What I saw was a beautiful place, an opportunity to step aside and experience God's creation in a lovely rural bush setting in the Watagan Mountains. Tall gum trees and Australian bush. Accommodation was very comfortable and the food great!
The staff were friendly and accommodating.
What I experienced was a time apart giving everyone the opportunity to grow in their understanding and their love of God through the talks, worship and prayer times. People who came to the weekend a little hesitant went home with a new understanding of what being in the family of God means. They responded to the talks, the chapel times and their table communities with enthusiasm and showing a readiness to go out to share the Gospel. I saw the team who had come to our first training day, a rather diverse, disassociated group of individuals, really work as a cohesive unit to show God's Love to all they came in contact with. I saw our S.A .s Michelle Hazel-Jawhary, Rosemary Gillham and Judy Walsh provide much support and inspiration. Rosemary saw us through team training but, sadly, had to withdraw through ill health. We were blessed that Judy Walsh was able to step in seamlessly at the last moment.

I learnt that God's family gain insight and strength from being together praying learning and sharing. I met many people who were willing to be open, to listen, to contribute and to grow.
Another weekend where God's presence and the Cursillo motto of make a friend, be a friend and take that friend gently to Jesus was achieved.
Ruth McFarlane.