Welcome Day & Other Events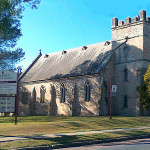 Welcome Day is next Saturday (16 September) at St James Morpeth. An invitation is extended to all Cursillistas. 9am for a cuppa concluding at 3pm.
Other News: The Diocesan Ultreya will be on Sat 18 November, 9 am for 9.30 am,  at the Cathedral. Please note that this is a change of date from our usual annual date. Please continue to pray for the Secretariat, giving thanks for those who continue to serve and for those who will be taking up new roles.
 Synods: The First Session of 52nd Annual Synod will be held on Saturday 23 September at Bishop Tyrrell College.
The date for the Special Session of the 52nd Synod for the purpose of Bishop Election has not been finalised. Nominations have closed.
Prayer for Bishop Electoral process
God of Wisdom and Light: You alone have power to bring blessing out of all our choices and use our actions for the building up of your kingdom, be with members of our Bishop's Nomination Board as they take counsel for the future.
Turn their hearts and ours to listen to your spirit. Guide them in discerning faithful people for consideration as Bishop of the Diocese, and help us all to know your will for us at this time, and in all things seek to give you glory; through Jesus Christ our Lord. Amen.