Diocesan Ultreya & Bishop Election Synod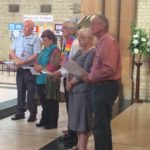 The Diocesan Ultreya was held on Sat 18 November 2017 at the Cathedral.  The Dean of Newcastle,  Revd Canon Katherine Bowyer welcomed us.  Even after the change of dates there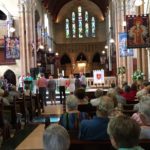 were over 100 present.
Commissionings :  Our New DLD to replace Brian Walsh is Bill Nicolle. 
New Secretariat Members commissioned were: Lyn & Steve Parsons, Chris Bullock and Colleen Read.
Our new SD, who replaces Revd Steve Niland, is Revd Michelle Hazel-Jawhary
M47 LD is David Marsh and W47 LD is Jane Sinclair.
Bishop Election Synod:  The date for the Special Session of the 52nd Synod for the purpose of Bishop Election is to be held on 24th & 25th November.  Nominations have closed.
Prayers for Bishop Electoral process: From our Prayer Book – At the time of choosing a bishop

Eternal God, shepherd and guide, in your mercy give your Church in this diocese a shepherd after your own heart who will walk in your ways, and with loving care watch over your people. Give us a leader of vision and a teacher of your truth. So may your Church be built up and your name glorified; through Jesus Christ our Lord. Amen.  (AAPB p 212)
For Synod
Almighty and everliving God, give wisdom and understanding, to the members of the Synod of this Diocese. Teach them in all things to seek first your honour and glory. May they perceive what is right, have courage to pursue it and grace to accomplish it, through Jesus Christ our Lord. Amen. (AAPB p213)